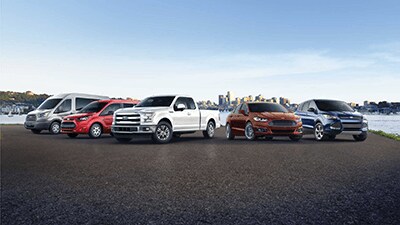 Willowbrook Ford
is an outstanding Ford dealer servicing Oak Park, IL. We bring you and all of our customers lots of fantastic auto services. Drivers will have the pleasure of experiencing low prices on
new Ford selections
and
pre-owned models for sale
. You can also look forward to very good customer service from our staff members. We will answer your questions about this Ford dealership in Illinois and let you know more about our MSRPs and our specials that we have. Our experts work with drivers on getting a loan through one of our quality lenders when it comes to finalizing your financing needs. Please speak to us about what kind of vehicle you would like to own when you
apply for credit
through our dealership.
This Ford dealer servicing Oak Park, IL is definitely ready to talk to you about all of the marvelous new Ford choices that can be found within our new vehicle inventory. Our
featured new vehicles
come with upgrades for the existing model year. Customers can contact us to talk to a Willowbrook Ford professional regarding his or hers upgrade package desires and things that we can do to assist you in customizing your new Ford selection. We also have certified pre-owned vehicles for sale at good prices here at this Ford dealer servicing Oak Park, IL. You can shop online and explore these low prices and then come to us to find out more details about our MSRPs and how our models for sale match up against local and statewide auto competitors.
There is also a
bargain vehicle inventory
where you will find more low prices on top vehicle choices. Just go to the appropriate link on this website to check out these unique makes and models for sale. Ford service plans are also available for any driver looking for a great extended service plan that covers labor costs and rising parts costs for your model. Just talk to a Willowbrook Ford expert regarding our Ford ESP plans that we have and which one is the right choice for you. We are more than proud to be a
top Ford dealer servicing Oak Park, IL
. We enjoy your company and telling you about all of the gorgeous Ford cars, Ford trucks, hybrids, and SUVs that we have for sale. Again, you can expect very good MSRPs here at the dealership and customer service that is responsive and outgoing.
Work trucks and other types of commercial vehicles are also available here at Willowbrook Ford. We understand that commercial drivers also require very dependable transportation, and you will encounter numerous outstanding options here at our diverse choice dealership in Willowbrook, Illinois. Customers can research models for sale online and ask us questions about this Ford dealer servicing Oak Park, IL and how we go about serving our customers. Contact Willowbrook Ford today to discuss our services, the MSRPs, excellent model prices, and ways that we can help you become a satisfied customer.