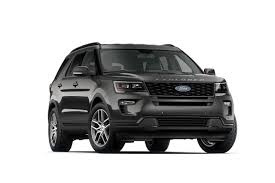 The Ford Explorer is one of America's most popular SUVs. Willowbrook Ford now offers 0% financing on a Ford Explorer Burr Ridge, IL. Anyone with good credit can qualify for this unique deal. Even if your credit is not up to par as drivers with stellar credit rankings, you can still get a wonderful vehicle for sale here at the dealership. Willowbrook Ford has numerous affordable options, including new Ford models, used vehicles, and certified used selections. Please speak to us about our competitive price tags that we have, our super good deal MSRP prices, and our 0% financing on a Ford Explorer Burr Ridge, IL.
The Explorer has earned high ratings for best-in-class fuel economy. Many people think of SUVs as gas guzzlers, but continued advancement on these models has made them more fuel friendly than ever before. SUVs are also much safer to drive these days. For a while, people kept hearing reports on the news about SUV rollovers that caused serious accidents. Well, the professionals at Ford and other auto manufacturers have made significant improvements to SUV safety, so you get that extra peace of mind while driving one. The Ford Explorer is a gorgeous SUV pick. It is one that brings safety, comfort, and space to a new level of driving. Now is the time to chat with a Willowbrook Ford professional regarding a Ford Explorer test drive today along with our 0% financing on a Ford Explorer Burr Ridge, IL.
EcoBoost engine technology gives the Ford Explorer lots of power and excellent handling on the roadways you encounter. Be sure to also ask about the FordPass app. This cool app allows you to track down your vehicle's location, gives you the ability to access vehicle features, like locking and unlocking, and also allows you to check out the current fuel level in your Explorer. There are even more features associated with the FordPass, so don't let this available feature pass you up when you are shopping for an Explorer here at Willowbrook Ford. Contact us to discuss this SUV model and our wonderful 0% financing on a Ford Explorer Burr Ridge, IL.
Other adventure ready technology associated with the Ford Explorer include parallel parking, a side parking sensor, and a Park Out Assist feature that allows you to get your vehicle out of tight parking spaces where other cars are too close. Willowbrook Ford invites you to check out all of the marvelous things that the new Ford Explorer has to offer. You can arrange your test drive with us today and also inquire about our 0% financing on a Ford Explorer Burr Ridge, IL. Just contact our dealership with any questions that you have about new Ford models for sale, low MSRPs, and what the Ford Explorer can do for you.